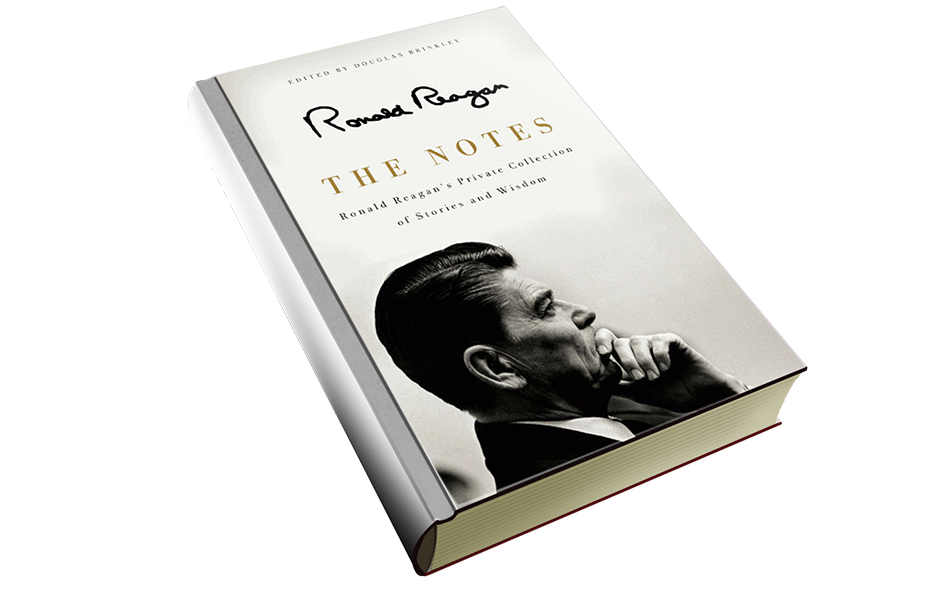 Ronald Reagan left behind a legacy that America will never forget. Now, in this one-of-a-kind collection of his most intimate thoughts, his favorite quotations by others, and his own most collectible jokes, all culled from a newly disclosed set of personal notecards he kept throughout his life and career, fans and admirers of the fortieth president will find a unique window of insight into the soul of an American icon. Edited by Douglas Brinkley, editor of #1 New York Times bestseller The Reagan Diaries, this indispensable Reagan retrospective is perfect for fathers, graduates, and anyone looking to find inspiration in the thoughts and musings of a great American leader.
Ronald Reagan's The Notes is a fascinating window into the mind of our fortieth president and the writers and thinkers to whom he turned for advice, inspiration, humor, and hope. Collected by the Ronald Reagan Foundation, the book includes both Reagan's own writing and his favorite quotations, proverbs, and excerpts from speeches, poetry, and literature. The breadth of these notes sheds light on a man who was deeply engaged with the arts, culture, and politics, from his time as one of the nation's most popular actors to later years as one of its most beloved presidents. Known as the "Great Communicator," Reagan sought wisdom from a wide-ranging set of political figures, philosophers, novelists, and poets, including Abraham Lincoln, Daniel Webster, John F. Kennedy, and Thomas Jefferson, as well as Mohandas Gandhi, Aleksandr Solzhenitsyn, Mark Twain, and Thomas Wolfe.
While the number one New York Times bestselling Reagan Diaries detailed daily life inside the Oval Office, The Notes encapsulates a lifetime of reflections on work, marriage, and family in classic one-liners such as "Flattery is what makes husbands out of bachelors" and "Money may not buy friends, but it will help you to stay in contact with your children." Reagan's own writing — his jokes, aphorisms, and insights into politics and life — is often surprising and reveals a view of the president that has rarely before been seen.
Historic, illuminating, and deeply captivating, The Notes is a remarkable collection of the thoughts of one of our most beloved presidents.
Hardback
Paperback
Paperback Large Print
Ebook
Purchase book at these available locations:
"The book offers a window into the mind of the nation's 40th president and displays the effort he made behind the scenes to hone his performance as a speechmaker and storyteller driving home a conservative political philosophy." — USA Today
"This volume provides an illuminating glimpse into Reagan's mind. . . . The entries show the directness of Reagan's thought and his uncanny ability to make a point." — The Daily
"These notes are wonderful things. . . . Although a few recent books have proclaimed to have finally uncovered the real Reagan, there's a chance we'll never get any closer than in these scribbles, which reveal so much." — Christopher Buckley, Bloomberg News
"Now with the discovery of his note cards, we can better appreciate just how hard Reagan himself labored to be clear and convincing—and, yes, sometimes funny—to his many audiences." — The American Spectator
"This is a book to return to often and sample the collected wisdom found there that buttressed a remarkable man's vision." — The Washington Times