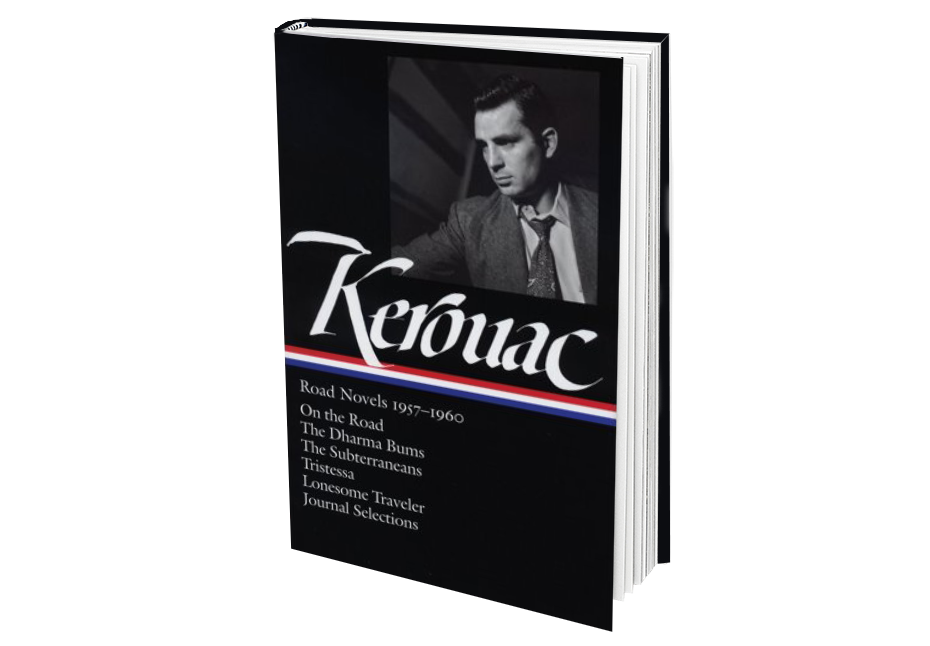 Jack Kerouac's On the Road was a landmark event in American fiction when it was published in 1957, a counter-cultural credo that made Kerouac the reluctant figurehead of a generation that saw itself mirrored in his cast of restless seekers, "mad to live, mad to talk, mad to be saved, desirous of everything at the same time." The exuberant, anguished questioning of his protagonists Sal Paradise and Dean Moriarty was matched by the surging jazz like cadence of his prose. Here, for the first time in one volume, Kerouac's masterpiece is joined with four other autobiographical works about his life on the road — The Dharma Bums, The Subterraneans, Tristessa, and Lonesome Traveler — and with a selection from his journals in a volume, edited by Douglas Brinkley, that illuminates his unique and meteoric career.
The raucous, exuberant, often wildly funny account of a journey through America and Mexico, Jack Kerouac's On the Road instantly defined a generation on its publication in 1957: it was, in the words of a New York Times reviewer, "the clearest and most important utterance yet made by the generation Kerouac himself named years ago as 'beat.'" Written in the mode of ecstatic improvisation that Allen Ginsberg described as "spontaneous bop prosody," Kerouac's novel remains electrifying in its thirst for experience and its defiant rebuke of American conformity.
In his portrayal of the fervent relationship between the writer Sal Paradise and his outrageous, exasperating, and inimitable friend Dean Moriarty, Kerouac created one of the great friendships in American literature; and his rendering of the cities and highways and wildernesses that his characters restlessly explore are a hallucinatory travelogue of a nation he both mourns and celebrates. Now, The Library of America collects On the Road together with four other autobiographical "road books" published during a remarkable four-year period.
The Dharma Bums (1958), at once an exploration of Buddhist spirituality and an account of the Bay Area poetry scene, is notable for its thinly veiled portraits of Kerouac's acquaintances, including Ginsberg, Gary Snyder, and Kenneth Rexroth. The Subterraneans (1958) recounts a love affair set amid the bars and bohemian haunts of San Francisco. Tristessa (1960) is a melancholy novella describing a relationship with a prostitute in Mexico City. Lonesome Traveler (1960) collects travel essays that evoke journeys in Mexico and Europe, and concludes with an elegiac lament for the lost world of the American hobo. Also included in Road Novels are selections from Kerouac's journal, which provide a fascinating perspective on his early impressions of material eventually incorporated into On the Road.
Purchase book at these available locations:
"In the second volume to date of the popular Penguin Lives series to be devoted to a woman (remarkably, only four of the projected 26 subjects will be female), historian Brinkley shreds several key myths surrounding Rosa Parks, the African-American woman who became "the Mother of the Civil Rights Movement" at the age of 42, when she boldly defied Jim Crow laws by refusing to give up her seat to a white rider on a segregated bus in 1955. The act catalyzed the historic 381-day Montgomery bus boycott and stirred the nation's conscience. Yet Parks has a more complex personality than is suggested by her shy, soft-spoken public persona, Brinkley reveals. Despite a humble, fatherless childhood in rural Alabama, she quickly distinguished herself as a tireless worker with the local NAACP, devoting her energies to area youth groups, recording the problems of victims of hate crimes and participating in the organization's major state conferences. Brinkley (The Unfinished Presidency, etc.) pinpoints the origins of Parks's strength and strong social commitment as he details the legalized segregation that tainted every aspect of Southern life. His short, compelling scenes rivet the reader, although some merely expand on previously disclosed events, such as the wave of jealousy and backbiting among Parks's peers, her resurgence in Detroit politics as an aide to Representative John Conyers and the savage beating and robbery that almost took her life in 1994. Like several books in this series, Brinkley's tribute to Parks succeeds not because of an abundance of fresh revelations but because of its wealth of insight and rich portraiture."  — Publisher's Weekly
"[A] precise history of the woman and the incident that would crown her the mother of the civil rights movement."  — USA Today
"A timely update of the historical record, told as an inspiring and unabashedly dramatic story of an American heroine."  — The Seattle Times
"Hard to believe, but this year marks the 50th anniversary of the publication of the celebrated Mr. K's Beat bible, "On the Road ", a book that came out of nowhere and knocked everyone on their butts. Kerouac joins The Library of America with this ensemble of four novels ("Road, The Dharma Bums, The Subterraneans", and "Tristessa ") plus "Lonesome Traveler ", a collection of travel essays, and selections from his journals of thumbing and bumming his way across Europe and Mexico. Road's anniversary will lure new readers as well as old ones looking for another fix, and this collection is a wonderful bargain. Happy anniversary, Jack."
— Library Journal, July 15, 2007