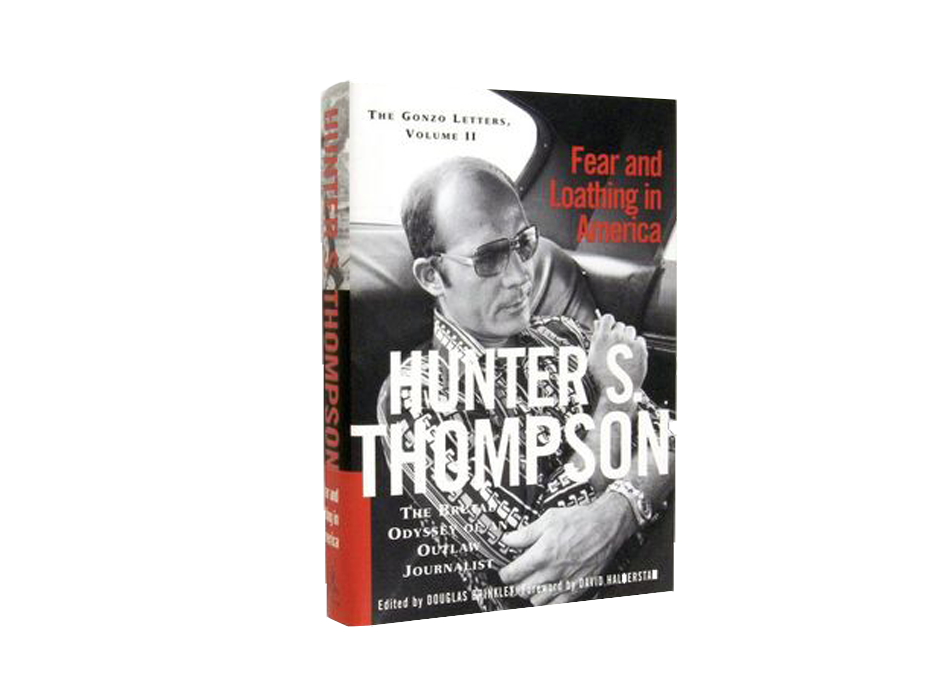 Fear and Loathing in America: The Brutal Odyssey of an Outlaw Journalist (1968–1976) is a collection of hundreds of letters Hunter S. Thompson wrote (as well as a handful he received) after his rise to fame with his 1966 hit Hell's Angels: The Strange and Terrible Saga of the Outlaw Motorcycle Gangs. These letters deal primarily with Thompson and his editor at Random House, Jim Silberman, his correspondence with Oscar Zeta Acosta, and his perpetually fluctuating relationship with Jann Wenner, the founder of Rolling Stone.
Through this time period, Thompson discusses Fear and Loathing in Las Vegas, Fear and Loathing on the Campaign Trail '72, and his unending desire to see The Rum Diary made into a film.
In this second volume of letters — the first being The Proud Highway: The Saga of a Desperate Southern Gentleman 1955–1967 — an insight into Thompson's eccentricity and brilliance is found.
Brazen, incisive, and outrageous as ever, Hunter S. Thompson is back with another astonishing volume of his private correspondence, the highly anticipated follow-up to The Proud Highway. When the first book of letters appeared in 1997, Time pronounced it "deliriously entertaining"; Rolling Stone pronounced it "brilliant beyond description"; and The New York Times celebrated its "wicked humor and bracing political conviction."
Spanning the years between 1968 and 1976, these never-before-published letters show Thompson building his legend: running for sheriff in Aspen, Colorado; creating the seminal road  book for Fear and Loathing in Las Vegas; twisting political reporting to new heights for Rolling Stone; and making sense of it all in the landmark Fear and Loathing: On the Campaign Trail '72. To read Thompson's dispatches from these years — addressed to the author's friends, enemies, editors, and creditors, and such notables as Jimmy Carter, Tom Wolfe, and Kurt Vonnegut — is to read raw, revolutionary eyewitness account of one of the most exciting and pivotal eras in American history.
Hardcover
Audiobook
Kindle
Purchase book at these available locations:
"Hunter S. Thompson is the most creatively crazy and vulnerable of the New Journalists. His ideas are brilliant and honorable and valuable…the literary equivalent of Cubism: all the rules are broken." — Kurt Vonnegut, Jr. 
"His hallucinated vision strikes one as having been, after all, the sanest." — Nelson Algren
"He amuses; he frightens; he flirts with doom. His achievement is substantial." — Gary Wills 
"There are only two adjectives writers care about anymore…'brilliant' and 'outrageous'… and Hunter S. Thompson has a freehold on both of them." — Tom Wolfe